Sisterhood Gift Shop
Sisterhood Gift Shop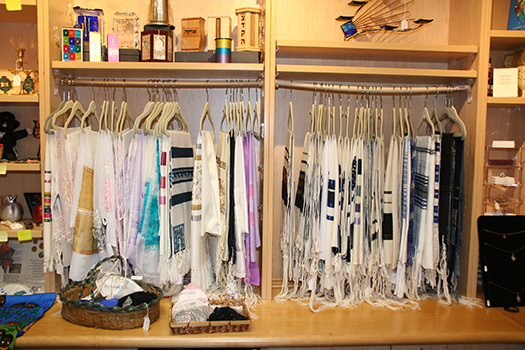 The mission of the Sisterhood Gift Shop is to provide Temple Sholom and the greater Jewish community with a source for the sanctification and beautification of their lives through Judaica.
The Sisterhood Gift Shop offers a wide variety of merchandise for all holidays and special events, and includes a beautiful selection of items, ranging from the traditional to handmade works of contemporary art by Israeli and American artists. The Sisterhood Gift Shop also has everything to make your bar and bat mitzvah perfect - from kippot to tallit, and everything in between.
Located in the Education Wing, the Sisterhood Gift Shop is entirely staffed by volunteers and all profits go directly to fund Sisterhood programs and special needs of the Temple. It is open regularly on Sundays, 9:00 am–11:30 am and Tuesdays, 11:00 am–1:00 pm, in addition to 4:30 pm–6:00 pm on Tuesdays and Wednesdays during the school year when the Temple Sholom Learning Center (religious school) is in session. To schedule an appointment outside of these hours, please email templegiftshop@yahoo.com or call Phyllis Shapiro, 203-637-7809, or Lauren Wels, 914-934-9490.
Please come in and browse. You will be sure to find something you love.
Fri, October 30 2020
12 Cheshvan 5781
Fri, October 30 2020 12 Cheshvan 5781